Chiselling Lanka's own Bamiyan wonder
By Upali Salgado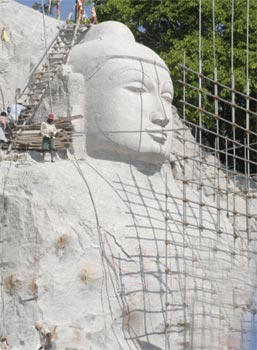 In 2001, the world witnessed clouds of dynamited dust rising from the destroyed 55 metre tall, 6th century AD Bamiyan statues located on the ancient Silk route linking China and ancient Persia.
These silent icons reminded travellers who passed through the great green valley of the Buddha's compassionate ways. Today, at Rambodagalla, 12 miles north of Kurunegala, there is being created out of granite another Buddha statue in the Samadhi Mudra, 67.5 feet tall which will be the world's largest statue in this mudra (posture).
The tragic events of 2001 AD which took place in the picturesque Bamiyan Valley, close to the Hindukush and Kohi-baba ranges, about 250 km northwest of Kabul, Afghanistan, saw the Taliban turn a deaf ear to strong international appeals to halt the destruction of the Bamiyan statues, an act of reprehensible religous bigotry.
In Sri Lanka this created sadness and strong resentment amongst Buddhists, who firmly resolved to recreate in their own land a similar icon, what had been lost and dear to Buddhist culture, though perhaps not in line with Gandara art. This gigantic project estimated to cost Rs. 3.5 million that commenced on September 13, 2003, is now well underway, with financial support from the government, several wealthy Buddhist and Hindu benefactors and villagers who visit the site.
Craftsmen with considerable experience have been commissioned from India to work on the statue. Former Indian High Commissioner Nirupama Rao visited the site and one of their best known Indian engineers in this field, Padma Sri Muttiah Stapathy and his team of skilled artisans "are on the job", hewing and chiselling out what would be a work of art.
The Ven. Egodamulle Amaramoli Nayaka Thera of the Amarapura Saddhama Yukthika Nikaya in whose temple premises this masterpiece is being created is hopeful that the project will be completed by Vesak Day 2009.